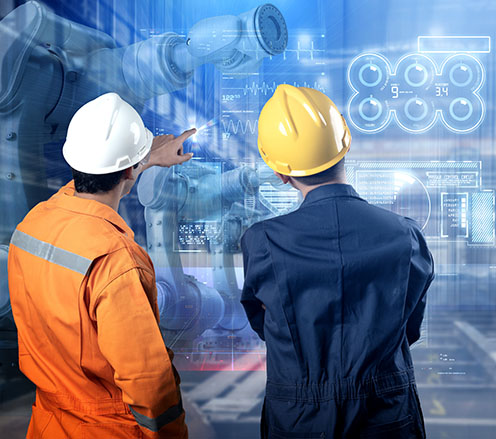 Support in the development of components ready for assembly
The greatest potential lies in your product. Every little detail can contribute to making your production leaner and more cost-efficient. We will help you design your components so that they are optimised for serial production.
Mechanical design services
Your idea for a production machine is ripe, but its implementation is presenting you with new challenges. This is why we are here: to support you with all our constructive know-how. We are used to working with interdisciplinary teams to produce outstanding mechanical designs, while also taking all constraints from other disciplines and, of course, your specifications into account, so that a fully comprehensive 3D design can be developed to the point where it is ready for ordering.
With the help of our SolidWorks design programme, we are able to use your CAD component data and layouts as the basis for creating innovative production machines. In addition to designing individual parts and assemblies in 3D, we also create drawings and parts lists that are ready for production and assembly according to your own drawing specifications or we can generate other neutral formats from them to simplify communication with customers and suppliers.
You can also arrange for us to carry out the design work on your premises.
Preparation of 3D machine layouts
We can create 3D layouts in the DGN format for detailed factory planning.
Pneumatic design for industrial plants with Eplan Fluid
Our pneumatics specialists use the modern CAE software Eplan Fluid for their project planning. As a leading engineering tool for the planning of circuits of fluid technology systems in hydraulics, pneumatics, cooling and lubrication, the software allows for project planning and automated documentation according to current standards.
Switch cabinet and electrical design for industrial plants with Eplan P8 incl. testing
We use the modern CAE software EPLAN P8 for the electrical design of extensive industrial plants and automation solutions. Test runs as well as detailed evaluations and data exports based on the circuit diagrams we create are the basis for subsequent work processes such as cable labelling, wiring and PLC programming.