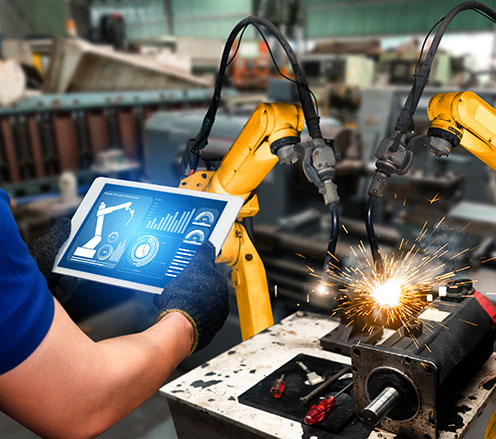 Assembly devices
We will gladly take over the assembly of a wide variety of devices for you. These can range from very simple to highly complex, according to your wishes. Close interaction with the relevant development departments is mandatory.
Contract assembly
Our experienced employees from the field of mechanical assembly can support you in completing your assemblies, systems and special-purpose machines on schedule. Our service also includes the ordering of individual parts. The assembly is carried out according to the assembly instructions in compliance with DIN ISO 9001:2015 quality management. Close coordination between you, your end customer and us creates the basis for a successful project. We would be happy to make you an offer that suits your needs in terms of duration, type and scope of support.
Switch cabinet and control system construction for industrial applications
We are engaged in the production of switch and control cabinets for various industries.
We can provide you with a complete assembly, which will be carried out according to your individual specifications.
We have many years of experience with regulations of the largest OEMs in Germany and are able to offer our customers the highest quality.
For the construction of switch cabinets, we use individual parts from manufacturers who guarantee quality and with whom we have been cooperating successfully for many years.
Experienced handling of system components, such as those from Siemens, Rittal, Festo, Wago and Harting, enables the job to be completed quickly and with a high level of efficiency.
Installation and assembly of electrical machines and systems
We offer professional execution of complex electrical installations, including multifunctional handling and gripper systems, and robots of all types. Through cooperation between several departments, we guarantee you a hassle-free process.
Many years of experience with system components, such as those from Siemens, Bosch Rexroth, Kuka, ABB, Kistler, Igus, Pflitsch, enables us to create optimum economic efficiency in the installation and assembly of electrical machines and systems.
Our experienced team can provide you with solutions for all, even special, ambient conditions. We adhere to occupational health and safety regulations as well as customer-specific instructions.