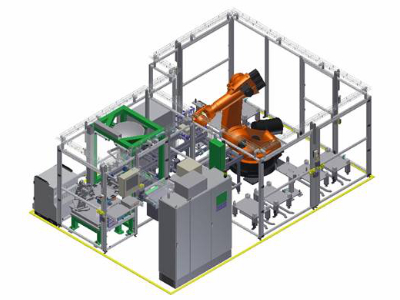 Industrial robots
Robots increase the profitability, reliability and efficiency of your plant!
We have been developing robot applications for more than 25 years for all common industrial robots, primarily the Kuka and ABB family as well as HRC robots from Universal Robots. (HRC = human-robot collaboration) For optimum system planning, we use simulation tools such as 3D simulation tools, offline programming tools and virtual commissioning. We can integrate any technology with your robotic application, such as cleaning, brushing, joining, grinding, screwing, camera operation, welding as well as many others, making your plant productive. Whether you need several robots working in a team, moving on an external axis or processing workpieces on a turn-tilt unit, we have the right solution for every task! We offer both robot cells and the integration of robots into assembly lines. Do you want to integrate robots into your manual production? HRC robots are specifically designed to cooperate safely with their operators. The use of Safe Operation technology ensures optimal personal safety in your robot applications. Flexpicker or Scara robots are used for very short cycle times. Would you like to operate several tools on one robot? We offer gripper changing systems and gripper stations for fast automated tool changes. Robot grippers are designed and assembled in-house at b&o.
Technology used:
Bin Picking – Removing bulk material components from containers
Screwdriver – Integration of screwdrivers
Roboteam – Cooperation of several robots
External axles – Integration of additional axles
Conveyor – Handling on moving conveyor belts
Vision – Robot guidance with camera
Safe – Robot safety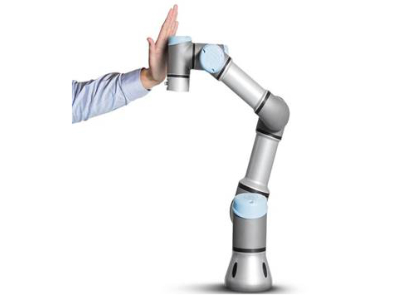 Universal Robots
As automation specialists, human-robot collaboration is something that we are currently very concerned about. Collaborative robots are being used in more and more areas where direct interaction with humans is required.
We work with the collaborative robot arm from Universal Robots. The UR robot arm can be used in many areas and is ideally suited for the automation of small series in small and medium-sized companies. With the UR robot arm, almost all processes such as gluing, assembling, packaging, quality control, as well as pick & place and machine loading can be carried out in a very confined space. A UR robot will optimise your entire production process and make it more efficient.
We also offer the UR robot arm in the form of a location-flexible and mobile solution on a trolley. The trolley is easy to move to the site of operation and can be up and running quickly. With this mobile solution, your production can be designed flexibly.
For example, you can decide whether an employee or a UR robot arm operates your machine.
What are the advantages of a UR robot arm?
Simple programming
Rapid preparation for new tasks
Small space requirement
Collaborative
Quick payback period
We are happy to integrate the UR robot arm into your USE CASE, please contact us!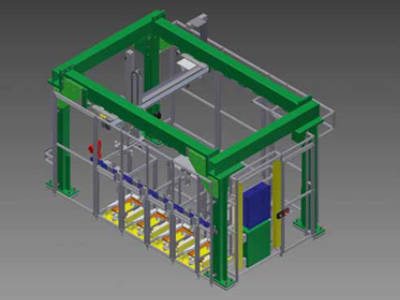 Axle gantries
The classic axle gantries from b&o. Either as a simple two- or three-axis gantry with a pneumatic drive for simple tasks, with servo drives for fast and precise tasks, or with a mix of pneumatic and servo-electric drives.
Axle gantries have advantages:
In comparison to robots, they do not require any additional safety measures. Gantries have fixed travel paths with fixed stops and are therefore easy to secure.
Gantries can cover much larger areas than an articulated robot at low cost
Gantries are easy to put into operation
Gantries are simple and inexpensive to manufacture