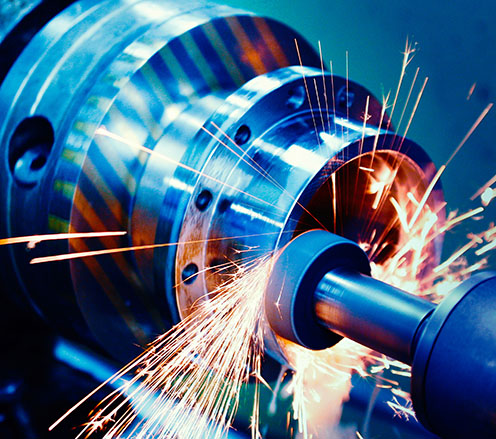 Single piece production / series production
We offer CNC machining of the smallest up to medium-sized workpieces with sizes up to 700 x 1000mm and diameters up to 350mm from various tool steels, structural steels, plastics and from aluminium.
Thanks to a large selection of CNC milling and lathe machines as well as cylindrical and surface grinding machines, manufacturing flexibility is guaranteed.
With our wide range of CNC machines, we are able to produce both small and large quantities of serial parts. Continuous monitoring of the manufacturing process guarantees the highest quality.
We can also provide a final surface finish using various grinding machines and inscriptions via needle embossers.
A final inspection performed with the aid of a 3D coordinate measuring machine guarantees high-quality component production.
CNC lathing up to a diameter of 350 mm and a length of 1000 mm.
CNC milling up to 700 x 1000 mm in size
5 axis milling up to 600 x 800 mm in size
Surface grinding up to 200 x 250 x 500 mm in size
Cylindrical grinding up to a diameter of 200 x 800 mm long
Production of 3D printed prototypes
We can print prototypes of components and spare parts for you.
Currently we can offer you printed parts made of PLA.
Component dimensions up to max. 200mm x 200mm x 200mm